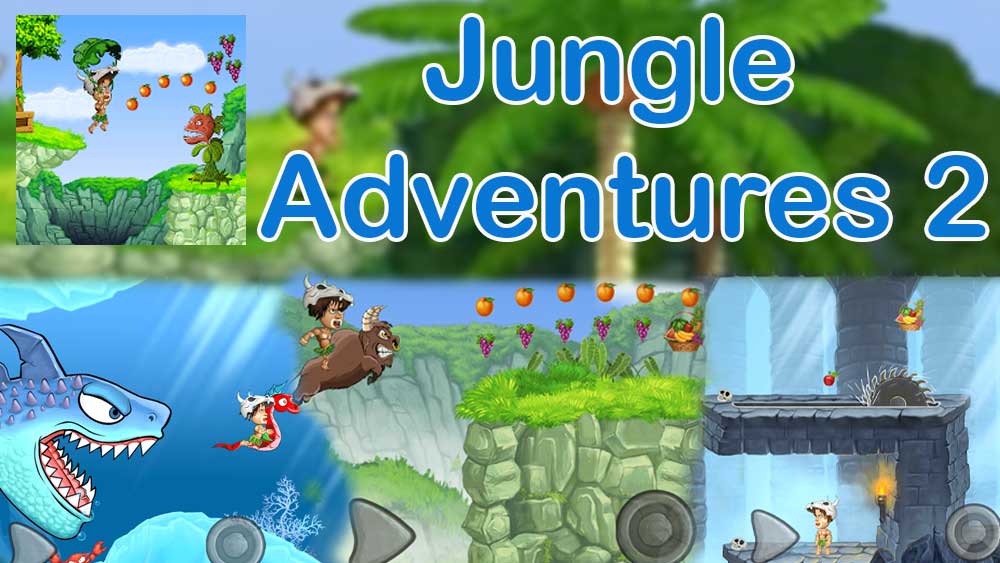 Rendered Ideas are behind this popular Jungle Adventure 2 game, according to its content rating this game is user friendly suitable for all ages so definitely anybody can play it. Star rating stands a 4.2 and installed by over 10,000,000+ users. Sweet!
Jungle and forest themed games are never the boring type of games. Especially when you can be the Jungle Boy or Jungle Girl inside your own phone. So much to explore and so many levels to pass from, various types of characters and challenges. It's a weird kind of spellbind that goes on when you sit to play games like these. Time goes by so fast and quick and yet you haven't had enough of it.
This is a free awesome game available on any Android phone. You can easily install this game on any phone using AC Market, Aptoide or even by using Google play store.
There's jumping, sliding, swimming, throw and glide, riding on pets done by the main character of this wild game.
The story involves a powerful wizard who steals all the fruits from the forest to become unbeatable and stand second to none. That's your Villain right their guys! so now let's elaborate on who's the Super Jungle Boy here and how he attempts to save his homeland. You will be playing as the Superhero of this game that is the character of Addu Bullian and Coco who are Addu's trustworthy pets accompanies him in helping to restore all the fruits back to their forest and save it from the evil magician. So, it's Jungle Tarzan vs Deceitful Magician, interesting right? Talking about the features of Jungle Adventures 2 isn't at all complex.
It's easy on the controls, over 60+distinctive levels, straightforward yet outstanding graphics. Security basis its virus free and can be downloaded into any of your android smart phones. However, you will have a month's time to enjoy a free trial session thereafter you will have to continue playing by paying for it through a subscription." Nowadays Everything Nice Comes with a Price"
Jungle Adventures 2 Game for Android and TV BOX
You can install this game on your Android TV box using your default app store like Play Store TV and Amazon App Store. If you are unable to find those two app stores on your device you can install alternative app store like Aptoide TV or Filelinked.
Jungle Adventure 2 game literally sounds so wonderful! Tropical fruits and eye-catching colors. And it will also leave a good impact on kids who would love to play this. They might get in the habit of eating fruits more often; you never know right? I know it sounds silly but hey its silly in a good way. Hats more incredible is that these type of game keeps us captivated during our free time that we forget everything else.it creates a boost in confidence, happiness and kick in those thrill feels while playing these adventurous and remarkable games folks.
Game require performance. If your device experience performance issues when playing this game, you can use game booster application like Clean master. Clean Master can easily close all opened apps and unwanted tasks to boost device performance by freeing RAM and CPU workload.